About us
Allium. Onion seed. We know everything there is to know about it. There's a good reason why we have been the leading onion seed specialists for more than 65 years. But we don't just do onion seeds. We develop numerous other products from the Allium group. For example, shallots, onion sets, spring onions and garlic.
Worldwide product range
Our worldwide product range is made up of more than 200 varieties. Varieties that we have developed together with Bejo, our partner in Allium breeding. We have been working together for more than 50 years. As well as developing new varieties, we keep existing ones going. We do this on trial fields all around the world. This puts us in the best position to assess whether our products grow properly in the right place. Developing new varieties involves examining new cultivation goals, soil types, climatic conditions and of course market demand. We are proud of our expertise that has made us the global market leader in this segment, and we are no less proud of the fact that our varieties score highly in the Dutch Variety List. We place a high value on specialism and knowledge, which is why, as a centre of knowledge and source of information, we offer huge added value, not only to growers but also to the entire onion sector.
Our strength is innovation
The strength of the breeder lies in innovation and quality. A breeder works continuously at optimising varieties, producing ones that perform even better. Breeding is all about long-term thinking. You cannot simply develop a new variety overnight; it can easily take 12 years. That requires not only an investment in terms of time but also in money, lots of it. In fact, upwards of several hundred thousand euros. When developing a new variety, we look closely at its specific characteristics, such as its resistance to common diseases. Take mildew resistance, for instance. We have already achieved excellent results in this area. Producing a new variety also involves a lot of testing. Our team of specialist breeders is testing new varieties on trial fields all over the world. Only after the new variety has been taken through all the stages and been thoroughly tested, it can be considered ready to become a commercial variety.
Top class seed
The next step involves producing commercial seeds, starting with the seed itself. This seed needs to be top class, which is why we select it ourselves. The production team's job starts here. The seed onions that are grown from seed are sent to large European production fields. Our productionteam guides and supports skilled producers during the seed production. That's how we can guarantee a commercial seed of the highest quality.
Point of contact for the whole chain
Of equal importance to the development and production of onion seeds are our business associates. Breeding is not the only thing that takes time; so does building customer relations. These are relationships for the long term. They forge bonds based on interest in people as well as the products. Wherever they operate, the sales team know better than anyone else what is happening in the market. We use their knowledge and experience to develop new varieties. Furthermore, they are able to use their specialist knowledge to provide the growers with the right support. All for the purpose of achieving optimum results and cultivation goals. Discover our varieties here.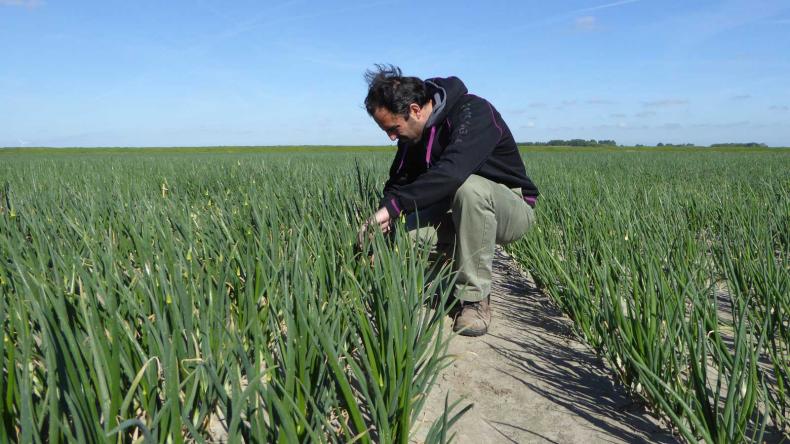 "For 12.5 years I have been working with great pleasure on new varieties that the market demands."
Fetze Admiraal
Breeder